< Back to News Feeds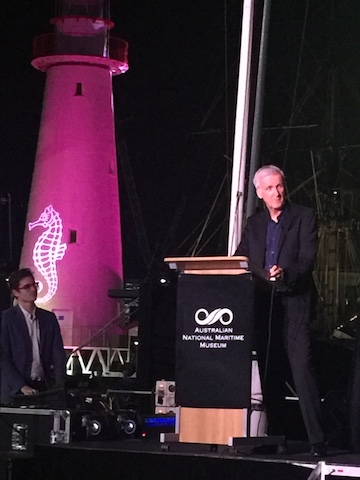 BlackBox Meet 'n' Greet With James Cameron @ The ANMM
On Monday night Marion and Mark were on the guest list for the launch of James Cameron's "Challenging The Deep" exhibition at the Australian National Maritime Museum.
Tracing James Cameron's lifelong pursuit and achievements in deep ocean science with his Deepsea Challenger.
Deepsea Challenger was secretly built in a small engineering shop in Leichhardt Sydney, in partnership with the National Geographic Society and with support from Rolex. Leichhardt is the suburb of Marion's childhood stomping ground.
The foam's strength enabled Deepsea Challenger design to incorporate thruster motors as part of the infrastructure mounted within the foam but without the aid of a steel skeleton to mount various mechanisms. The foam supersedes gasoline filled tanks for flotation in the historic submarine, Bathyscaphe Trieste, Swiss designed and built by Italian engineers in Trieste, Italy. Trieste is Marion's ancestral home.
< See Previous
See next >